All knitting, no finishing
So I haven't finished anything yet. Not the Deep V, not the Poms socks. I'm *almost* done knitting the body of the Deep V (
deja vu, anyone?
) but this time I'm serious. Look!
The reason I haven't done much more is that I've started something else. I'm fickle, I know, but this was too cute to pass up. It's a
Razor Shell Lace Camisole
from
ohmystars.net
(
which seems to be down at the moment so I'll update the links when it's back online,
and in the meantime check out the craftster thread
here
). It looks like this so far:
I'm using the recommended yarn (Sirdar Snuggly 4 ply) with an extra repeat thrown in to ensure that it actually fits. It's a really simple pattern, so it's great to work on in class (while taking lots of notes, of course), watching movies and on the bus. I'm thinking about overdying it, but since it's 55% nylon and 45% acrylic, I have some worries about how the dye will stick. That doesn't mean I'm not going to do it, it just means there will have to be some experimentation first.
In other shocking news, I bought some more yarn! This time it's for a cropped cardi from the current issue of
Knit.1
. The cardi looks like this: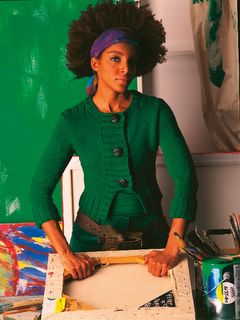 and the yarn I'm going to use (Patons Classic Wool in basic black) looks like this:
Finally, I bought some shoes from Payless and some other sewing supplies with the goal of cutting them up and making them into Mary-Janes of some kind.
Here's the craftster thread
and here are my supplies:
I plan on doing something else to them apart from the cutting and bias-taping, but I haven't decided whether I'll paint them or add some sort of doo-dad. Ideas?
Last, but definitely not least, I baked some wicked molasses cookies today. The recipe can be found
here
, and the cookies look like this:
I halved the recipe, nixed the shortening (and used more butter instead) and didn't press them into sugar. They're delicious.
From now on I'm going to update more than once a week. Next update will be a finished item, I promise!